Whether on a personal level, or just from hearing the reports on the evening news, we've all felt a bit of the turmoil that has been rocking the Church for the past several  months. The news has exposed to the world, that several of the Church's cardinals and archbishops have been named or linked to many incidences of abuse and scandal, not necessarily as those who committed the actual crimes… but as those who aided in the cover-up of these crimes… which allowed the abuse to grow and continue…

Resembling cockroaches which have been revealed in the dark, they have been scurrying  for cover, throwing around distractions, trying to divert the attention away from their actions. Many of these men who should be acting more like the soldiers of Christ that they were ordained to be, have been reduced to crawling on their bellies with the devil, weighed down by all of  their lies and excuses.
Unable, or rather; unwilling to stand up for the Light of Truth, many have behaved as cowards, delving deeper into the darkness of sin. Many  have abandoned their role as shepherd.  And instead of standing in place of Jesus Christ, as beacons of God's Truth… they became part of the world… allowing themselves to be swept in the currents of evil that move freely about the secular world, every moment of every day.
In their falling away from God's call to holiness, these men sinned… grave sins, that ruin the souls of good men. And instead of   shepherding their sheep… protecting their flocks… they took those who were entrusted to them and drug them directly into the dens of wolves, which were salivating at the very thought of consuming their holy flesh, and offered them as sacrifice for the devil.  It is really quite disgusting and evil. Unfortunately this has been going on for many years, and from the pile up of accusations, it appears that it is far from being over. From the way that many of our bishops and archbishops are self consumed and arrogant in their behavior, I am afraid that it will take a thorough cleansing… an exorcism of sorts, before we are freed of the sin that has embedded itself within the prelates of the Holy Mother Church.
As has been prophisized by many… it appears that the smoke of satan has wound its way down the corridors of the Vatican and has infected the hearts… and infected the souls of God's chosen men.
We must always remember that God is good and He is merciful.  He will provide His Church with righteous men who will be strong and courageous in the face of such manipulation and sin. He will call to Him those who love their Mother. Both in the Blessed Virgin Mary… and in the Holy Mother Church. He will provide good and holy sons. Those same kind of men that shaped the silhouette of many of our saints. The kind of men who for no other reason than their love of God and all that is True and holy, stood in the face of their adversaries and chose the difficult path of holiness. The difficult path of sanctification.  The path that found them chained and tortured… or beaten to death… receiving their crown of martyrdom when they refused to corrupt the Truth with lies.
There are saints among us now. They will be the ones who will lead us to the path of heaven. But it is the difficult path, wrought with the lies and manipulations of evil. Wrought with attacks from the devil at every turn. It is this same path that leads some of our present day priests to finding themselves in hiding, fearing for their lives… or even living out of the back of their car, sleeping as a homeless man instead of enjoying the proper residence that should be afforded to every diocesan priest in good standing. Their crime?  Going public and exposing some of the rot within the Holy Mother Church. We must understand that these priests are being attacked, not from outside enemies of the Church… No, these men, these ordained priests of God, are being attacked from within… it's enough to send shivers down one's spine…
Thankfully, God has not abandoned His Bride. He has not abandoned us, the lay faithful. He is still finding men and filling them…His Men… His soldiers, with the needed courage and zeal, to speak the Truth and to face the difficult charges that are being thrown at them when they choose to reveal the corruptness instead of continuing in the cover up. Regardless of what we think would have been better… whether we think it would have just been easier for them if they had just gone with the flow and kept their mouths shut…we must remember that God is still in control. And He is calling men… His sons to holiness. And that means, He is still calling them to Truth. We must remember that there are still many good and holy priests out there, ready to help us as we navigate our way through this mine field of abuse and scandal.
As lay faithful we need to pray and offer what we can to help these men. It is going to be a hard battle… with so many attacks coming at them from the inside… We have got to gather our forces and join our prayers for their protection… for their courage… I heard someone say that it will take the lay members to fix this…that is true… in a way… But the real battle raging is one between the devil and Christ… Between the devil and Christ's Church… and His good and holy priests who do not waiver from the Faith….those who do not turn away from the Truth. We must have courage and help them with this battle… by our prayers and by our willingness to sacrifice and our willingness to join our struggles with those of the Church… and give everything we have … everything we do, back to God through His Bride… Our Holy Mother Church and Her good and faithful priests.
I know there are many people out there stating that their faith is in God, not in the priests or the bishops. Heck, not even in the pope.  But we must remember that without the good and holy priests throughout the ages of time, there would be no Eucharist… and without the Eucharist, there would be no hope. For all the struggles of men, God has given us His Bride… His Church, and holy priests to carry out His mission in that Church, and for any  person to deny this, is to deny the very name of Jesus as God. For as HE said over and over to His disciples… 'No one knows the Father except through Me'…
And then He went and built The Church upon the Rock of Peter….His first priest… His first Pope… and He built His Church upon the foundation of a man… He then poured His breath and Life upon the earth through this Holy Institution… His Bride… The Holy, Catholic, Apostolic Church. If we go all the way back to the beginning, we find that those first twelve apostles…those that were 'handpicked' by Jesus Christ Himself, also betrayed Him. They were living in His midst…sharing meals with the Lord, and still the temptation of sin won over in some of their hearts. But we don't discount the fact that Christ knew what He was doing when He chose them. We do not judge the other eleven over the sin of Judas, do we? No, we look at the others… and even though they had their struggles, they were able to fulfill their vocation… fulfill the mission that God lay before them.
Jesus warned them that Satan would enter the Church through the sins of man, but He also promised them… promised us... that the 'gates of hell would not prevail against it.' He  instituted the Holy Sacraments to aid us when we have fallen… these same sacraments are available for all Catholics who have sinned… The sacrament of penance can renew our souls. And like I mentioned before, the sacrament of the Eucharist can give our hearts Hope, restoring the peace that gets lost in chaos. As His disciples, we must trust that God's power is still working through His Church. We must also remember that no sin is greater than His love, His mercy and His forgiveness. But we must repent. All of us. All of us must turn our hearts, our minds and our souls back to the Lord and His Truth.
In the midst of all the torment, in the midst of all the agony and ugliness of sin, let His Words give us the courage we need to hold fast to the teachings of the Lord and go forward… Trusting in God with more fervor than before.  It is not a time for mediocrity. It is a time for us to trust in the Lord and do the same.  As we go through our days, let us pray for our good and holy priests, and pray that God's mercy may be upon us all.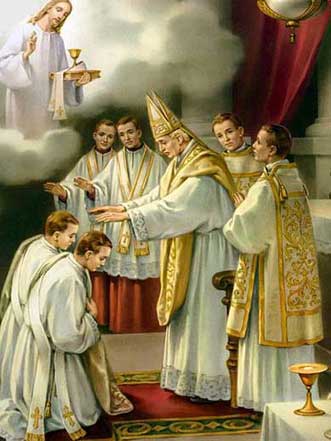 O Almighty and Eternal God, look upon the Face of Thy Christ, and for love of Him Who is the eternal High-priest, have pity on Thy priests. Remember, O most compassionate God, that they are but weak and frail human beings. Stir up in them the grace of their vocation which is in them by the imposition of the Bishop's hands. Keep them close to Thee, lest the enemy prevail against them, so that they may never do anything in the slightest degree unworthy of their sublime vocation.
O Jesus, I pray Thee for Thy faithful and fervent priests; for Thy unfaithful and tepid priests; for Thy priests laboring at home or abroad in distant mission fields; for Thy tempted priests; for Thy lonely and desolate priests; for Thy young priests; for Thy aged priests; for Thy sick priests; for Thy dying priests; for the souls of Thy priests in Purgatory.
But above all I commend to Thee the priests dearest to me: the priest who baptized me; the priests at whose Masses I assisted and who gave me Thy Body and Blood in Holy Communion; the priests who taught and instructed or helped me and encouraged me; all the priests to whom I am indebted in any other way, particularly (your priest's name here). O Jesus, keep them all close to Thy heart, and bless them abundantly in time and in eternity. Amen. Mary, Queen of the clergy, pray for us; obtain for us many and holy priests. Amen.