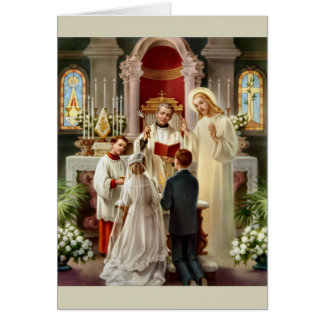 St. Paul's Letter to the Ephesians 5:21-32
Brothers and sisters:  Be subordinate to one another out of reverence for Christ.  Wives should be subordinate to their husbands as to the Lord.  For the husband is head of his wife just as Christ is head of the church, he himself the savior of the body.  As the church is subordinate to Christ, so wives should be subordinate to their husbands in everything.  Husbands, love your wives, even as Christ loved the church and handed himself over for her to sanctify her, cleansing her by the bath of water with the word, that he might present to himself the church in splendor, without spot or wrinkle or any such thing, that she might be holy and without blemish.  So also husbands should love their wives as their own bodies.  He who loves his wife loves himself.  For no one hates his own flesh but rather nourishes and cherishes it, even as Christ does the church, because we are members of his body.  For this reason a man shall leave his father and his mother and be joined to his wife, and the two shall become one flesh.  This is a great mystery, but I speak in reference to Christ and the church.
Ah… the reading from the book of Ephesians about wives being subordinate to their husbands…. it always gets the blood going doesn't it? So many of the couples sitting in the pews glance sideways at each other shaking their heads… mostly the women.  I mean, who wants to be subordinate to another person… equality among the sexes after all, right? From the glances and the nudges,  'subordinate' seems to be a bad word these days…Wives be subject to your husbands….. There's just something about it that rubs the feminist mind the wrong way. But, it shouldn't. Because if you listen to the whole passage it is obviously a passage written towards men, directing them as to how they should be treating their wives… it is a passage that directs men to holiness.
It reminds  men that in order to be holy… in order to reach their holy potential, they should be loving their wives, loving them like they love themselves… "He who loves his wife, loves himself." It is calling men, or the husbands, to put their wives first… Just as Christ loved the Church, and handed Himself over for her… completely and without limits… It is quite a command if you think about it. But with the rate of divorce among Catholics having skyrocketed over the past several decades, it is apparent that we are failing to grasp these most fundamental of commands for Catholic couples… For Catholic families… to not only survive… but thrive.

This letter is a call for the Christian husband to put his wife first… He is reminded that not only is he to love her… He is to cherish her. He is called to direct not only his path, but her path as well, he is their guide to holiness. Husbands are to love their wives with that purity of love that Christ shared with His Church… that sacrafical love which will carry them into heaven. This sort of love has roots in Christ… it has a depth to it, that can only be shared between man and wife.
We must also remember that this letter is not only a letter for the husband, but it is a reminder for the wife to heed her husband's direction…she is to follow his lead… to submit herself to his authority. It can be difficult, because it is a call for trust. Complete and united…the Trust between man and wife.
In order for a man to properly fulfill his role as husband… as head of his household… he must be strong in his Faith. This strength will be the foundation of their home. He must also be kind towards his wife and family. He mustn't abuse  his authority over them. He needs to be firm but patient. There is no place in the heart of a Christian husband for ill will towards his wife.
A good husband is strong and will have to be the support…the structure for the home…. Just as Christ is for the Church. And like Christ, he will also have to have the courage to love his wife  as he loves himself.  The courage to love his wife as Christ loves His bride; the Holy Mother Church. Most of us have a hard time loving ourselves… just how are we going to love with a love like that? It is a vulnerable love that leaves most men nervous. Oh, they may say they're not, but it takes a strong man to love  his wife with that kind of openness… with that  kind of heart. It isn't an angry possessive love that seeks only to satisfy the passions…there is a passion to this love, of course… but it has to be a love that satisfies beyond the physical. It has to fill the carnal as well as the spiritual. It is supposed to be a love that not only satisfies the body… but nourishes the soul.
Perhaps one of the most beautiful writings on this Epistle was written by St. John Chrysostom, in which he extols the beauty of the relationship between husband and wife. He explains the way a man should love his wife… regardless of his own emotions or hers for that matter. It is rather beautiful and something to think about the next time you hear some liberal minded woman complaining about 'subordination'.
And perhaps, if in our own lives, we approach our spouses either as Christ approaches the Church… giving over everything in love….or as the Church, which submits to the Authority of Christ, each of us… husbands and wives… can bring a bit more holiness to our marriages and treat them like the sacraments that they are…. A Sacred bond with God, joined with Him… as man and wife… united as one flesh, one body… in Christ…
"Thou hast seen the measure of obedience, hear also the measure of love. Wouldest thou have thy wife obedient unto thee, as the Church is to Christ? Take then thyself the same provident care for her, as Christ takes for the Church. Yea, even if it shall be needful for thee to give thy life for her, yea, and to be cut into pieces ten thousand times, yea, and to endure and undergo any suffering whatever,-refuse it not.
Though thou shouldest undergo all this, yet wilt thou not, no, not even then, have done anything like Christ. For thou indeed art doing it for one to whom thou art already knit; but He for one who turned her back on Him and hated Him. In the same way then as He laid at His feet her who turned her back on Him, who hated, and spurned, and disdained Him, not by menaces, nor by violence, nor by terror, nor by anything else of the kind, but by his unwearied affection; so also do thou behave thyself toward thy wife.
Yea, though thou see her looking down upon thee, and disdaining, and scorning thee, yet by thy great thoughtfulness for her, by affection, by kindness, thou wilt be able to lay her at thy feet. For there is nothing more powerful to sway than these bonds, and especially for husband and wife. A servant, indeed, one will be able, perhaps, to bind down by fear; nay not even him, for he will soon start away and be gone.
But the partner of one's life, the mother of one's children, the foundation of one's every joy, one ought never to chain down by fear and menaces, but with love and good temper. For what sort of union is that, where the wife trembles at her husband? And what sort of pleasure will the husband himself enjoy, if he dwells with his wife as with a slave, and not as with a free-woman? Yea, though thou shouldest suffer anything on her account, do not upbraid her; for neither did Christ do this."- St. John Chrysostom